Our retail point of sale software solutions are designed to address the challenges of Small & Independent Aspirants, Retailers and large multi-store Retail Chains. Their sector specific orientation, built using latest technologies, assure retailers 'a visible improvement' in customer engagement, by helping them source the right product at right price at the right time.
Inventory classification can handle the most complex of product portfolios
Use all promotions like buy-get, happy hour on various assortments
Module level and function level security based on user, role and site
Integrates with e-commerce and logistics solutions
Payment modes – cash, credit, credit card
Open/ close POS, Begin/end day concepts
Powerful MIS reports on stock, sales and profitability
Inbuilt Customer Relation, Loyalty Card Management
VAT / Sales Tax Management / Statutory reports
Inbuilt Financial Accounting (Bill to Balance Sheet)
Cash drawer, counter and currency denomination tracking
User-wise / Counter-wise / Day-wise / Shift-wise cash summary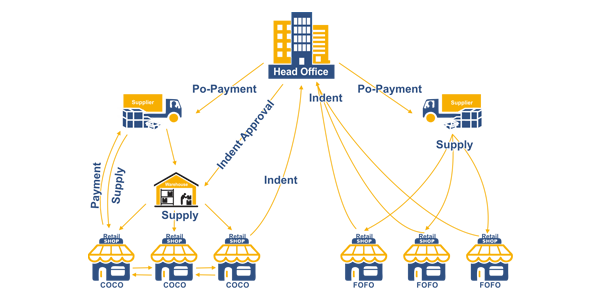 Features
---
Fully User-Configurable Invoicing
Fully User-Configurable Invoicing
* Vat Invoicing Tax (Tax / Retail)
* Tax Inclusive, Exclusive & MRP Billing
* Multiple –taxes in Single Invoice
* Manufacturing / Trading Excise Invoice
* Export Invoice & Packaging Slip
* Option for Pre-printed Stationary
* Self-Designable Invoice Format
Billing Features
Billing Features
* Multi Rate, Price List, & Discount
* Cash / Credit / Split Invoice & Challan
* Sales Return & Replacement on Sale Bill
* Party Wise Rate, Discount and Scheme
* Salesman / Route / Area Wise Bills & Reports
* Indication for Loss, Min, Max, New / Old Rate & Expiry
* Negative Stock Billing Facility
* Self-Designed Price List (Set Formula in Price List)
* Sales Return on Same / Separate Bill & Its Adjustment
* Back Date Stock Position at the Time of Billing
* Switch Over from Bill to Bill Anywhere
* Godown Wise Billing & Stock Position
* Bill Import / Export & Message on Bill
* Auto Calculation of Levies & no Chance of Manual Mistake
* Display last four Deals at the Time of Billing
* View O/s Stock, Ledger. Last Deal of Sale & Purchase Returns, Receipt Payment Bill Modification at the Time of Billing
* Counter Sale Entry Provision
* Party History Dashboard on Party Selection
* Provision to Load Item from Other Bill.
Discount & Schemes
Discount & Schemes
* Items Wise Double Percentages Discounts
* Item Wise Double Volume Discounts
* Four Different Discounts on Complete Bill
* Party Wise Discounts & Schemes Pre-Fixing
* Data Wise Schemes, Quantity Based Rate & Discounts
* Various types of Schemes, Like A Item Free with B Item Etc.
Document Printing
Document Printing
* Accounts Vouchers & Cheque Printing
* Receipt/ Payment Advice
* Sales / Purchase Invoice, Estimate A7 Challan
* Sale / Purchase Return Replacement & Price Difference
* Debit Note/ Credit Note
* Sales Orders / Purchase Order
* Bank Pay in Slip & TDS Certificate
* Stock Transfer Memo
* Delivery Note, Goods Receipt Note & Dispatch Summary
Purchase Features
Purchase Features
* Display Last 4 Deals at the Time of Purchase to Cross Check Rate Deal, Disc Tax & Cost
* Purchase Planning & Purchase Order Management
* Supplier Wise Various Outstanding Reports & Remainder
* Pending DR / CR & Replacement Notes
* Auto Barcode / Label Printing from Purchase Bill
* Fix Sales Rates & Deals at the Time of Purchase
* Online Shortage Management
* Purchase Costing Comparison
* 1000's of Purchase Reports & Analysis
* Online / Softcopy Purchase
Utilities
Utilities
* Smart Vat Patch no Need to Update software
* User–Definable Warning Alarms & Colorful Indication
* Year-Wise Data Backup and Restore
* Data Export to Word / Excel / Text File
* Draft Mode & GUI Printing
* Last Year Comparison with Various Reports
* Bird's Eye View of Accounts
* Powerful Query System
* Credit Limit in Amount, Bill & Days with Stop Billing Facility
* User Definable Hot Keys
* Data Security with Self Backup & Carbon Copy system
* Sales/Purchase, Bank, Ledger & Data Freezing on any Date
* Auto recovery of Bill for unsaved bill due to Power Off
* Attached with Hospital software & work on their guidelines
* Any Report Printing from anywhere
General Features
General Features
* Single User & Multi User
* 100% Data Security & Accuracy
* Tried & Tested (100% Error Free)
* Multi-Currency, Unit, Godown & Financial Years Facility
* Calculator & Cash Return Adviser
* Month Calendar with Appointment Dairy & Note Pad
* Supplier, Customers & Personal Directory
* Telephone Book Envelope & Labels Printing
* Hot Keys for Switch Over from one Report to Another
* software / Operator/ Company Password & Boundations
* Data Security with Self Backup & Carbon Copy System
* Sale / Purchase, Bank Ledger & Data Freezing on any Date
* Any Report Printing from Anywhere.
Taxation Reports / Registers
Taxation Reports / Registers
*Sales Tax / Purchase Tax Summary
* Sales Tax Account Registers & Vat Returns
* Sales Tax Forms Receivable / Issuable & Reminders
* Service Tax, F.B.T., T.D.S, T.C.S Excise, Cess & H.E. Cess
* Party Wise Vat Summaries
* Check List
MIS Reports
MIS Reports
* Cash Flow, Funds Flow & Ratio Analysis
* Budgets / Targets / Credit Limits
* Online Graph, SMS & E-mail
* Any Report Export to Word & Excel
* Sales / Purchase Analysis
* Gross Profit Analysis
* Financial, Expenses & Budget Analysis
* Operator Wise Powers & Boundations with Operator Log Book
Comprehensive Financial Accounting
Comprehensive Financial Accounting
* All Book of Accounts & Final Results
* Balance Sheet with Various Schedules
* Configurable Sales & Purchase Registers
* Outstanding Reports and Analysis
* Configurable Payment Reminder Letters
* Configurable Statement of A/c
* Interest Calculation & Bank Re-conciliation
* Depreciation Chart (as per Co. Act / it Act)
* Cost Centers with Grouping
* Funds Planning / Bank Planning
* Post Dated Cheques Facility
* Voucher Approval System
Inventory Management
Inventory Management
* All Books of Inventory
* Brand, Group & Category Wise Inventory
* Stock Valuation on Multiple Methods
* Item Wise Gross Profit
* Primary and Alternative Unit for Each Item
* Party-wise Price Structure for Items / Groups
* Multiple Prices Lists of Items
* Sales & Purchase Order Processing
* Batch / MRP / Size / Shade / Reference / Serial No. Wise Inventory
---