Marg Sales & Distribution Management Software is specially designed for the Companies who want to control or manage their C&F/C&A, Distributors, Stockist, Super-Stockists while Sitting at HO. It covers all major operations like Sales, Purchase, Inventory, Re-plenishment, Financial Accounting, MIS & VAT reports, Claims and Returns.
Master Data Management
Inventory Management
Central Purchase
Location-wise Vat / Sales Tax Management
Loyalty & Promotions
Purchase Order Management system
Price & Credit Control
Purchase Import From Excel/dbf/csv/txt Files
Sales Order & Invoicing
Parcel & Dispatch Handling
Show Bill Value In 5 Self Define Currency
Cash and Fund flow with Bank Planning
Multi Store/Godown Management.
Inbuilt Chatting System To Give Message To Users
Self-designed Invoice & Other Formats
Financial Accounting
MIS, BI & Statutory Reports
Warehouse Management
Price & Credit Control
Offer & Claim Management
Central Accounting
Integrates With E-commerce And Logistics Solutions
Module Level And Function Level Security Based On User, Role And Site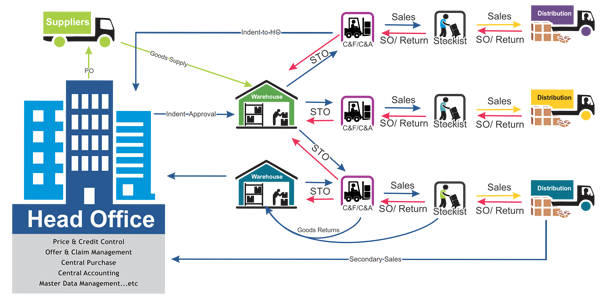 Features
---
Close
Computerization Benefits of Pharmacy Software
* Control on Pilferage, Stocks, Expiry & Claims
* Easy & Fast billing with Accuracy
* Cross check of Purchase Rates, Disc. Deal & Cost
* Online Sales Tax / NDPS / DrugsReporting
* Effective Purchase management to reduce costing
* Regular patient Prescriptions & Reminders
* Auto Order generation & Best suppliers planning
* Auto Purchase feeding from Email / CD / Pending Order
* Substitute / Salt / Location wise search
* Zero Percent chance of Manual Mistake Best Relations with Patient & Doctors
* Customers Satisfaction & Business Improvement
* Integrated Accounting "PAPERLESS SHOP"
Close
Billing Features
* Easy & Fast Billing with minimum Enter Required
* Salt / Substitute / Rack / Few Character wise search
* Barcode/Strips Code/Item Code/Item Name wise Search
* Sales in Strips & Tablets
* Doctor / Patient / Sales Man / Operator wise Sales
* Prescription Wise Sales & Pending Reminders
* Cash, Credit, Panel wise Bill / Challan
* Narcotics / Sch-Xindication to check Prescription
* Indications, Doses, Side effects, Spl. Precautions etc
* Attract Customers i.e., Card/Point System
* Various type of Discounts & Schemes
* Flexibility in Stock for Govt. Employees Bills
* Reduce dose from 10 to 3 days if cash short in bill
* Salable/Expiry Returns & its Adjustments
* Multiple Series & Wholesale Billing Option
* Expired Item Boundation & Near Expiry Indication
* Loss/Margin Loss Indication
* Multiple Customers Billing at same time on single PC
* Salable/Expiry Returns & its Adjustments
* Counter Sales & Challans for Loose Sales
* Switch over from Sale to Purc. to Sale to anywhere
* Family Group Option for Credit Sales
* Credit Card Sales & Online Bank Status
* Online Shortage for Unmaintained Stock
* Pharmacy Billing can be attached with Hospital software
Close
Why to use only MARG ?
* All India Network & Unlimited upgradations
* Control on Pilferage, Stocks, Expiry & Claims
* Over 6 lakh users & 500+ sales/support centers
* Cross check of Purchase Rates, Disc. Deal & Cost
* User friendly & scroll base
* Easy to implement i.e. Minimum Training Requirement
* Operator wise Log Book & Best software
* Start your Billing from Day one
* Latest Product Database
* Accounts upto Balance Sheet with Zooming Facility
* Invoices Export/Import, Any report in Excel
* 100% Accuracy & Data Reliability
Close
Record System
* Online Shortage Pad/Order to Supplier
* Reorder Generation on Sale/Minimum/Manually/Today Sale/Zero Stock/Shortage Pad Bases for Particular Supplier & Auto Purchase Generation
* Best supplier wise Order Printing & Auto Saving
* Supplier wise companies & order planning
* Day wise Supplier Ordering System
* Supplier wise Order Limit
* Last purchase deals of item at the time of Ordering
* Centralized Order System for Pharmacy Chain Stores
* Order through E-Mail/Fax/CD/Print Media
* Benefit of Chemist Re-Order system – "No Need to feed Purchase Manually"
Close
Purchase Features
* Auto purchase load from Order/Email/CD
* Purchase as per Supplier Invoice
* Display Last 4 Deals of Selected item to cross check Rate, Deal, Disc., Tax & Cost
* Fix different Sales Rate on MRP/Purchase Rate/Margin bases
* Cash/Credit Purchase
* Supplier wise various outstanding reports & reminders
* Pending Brk/Expiry, Dr/Cr & Replacement Notes
* Stock adjustment add for without purchase
* Easy option for Management to Cross Check Bills
* Centralized Purchase System for Chemist Chain Stores
* Arrow Sales option at the time of Purchase
* Item not received in purchase can be shift to Pending Order.
Close
Accounting Features
* Accounting more easy than Tally
* Financial Accounting up to Balance Sheet
* Online Accounting with Zooming Facility
* Trial Balance, Balance Sheet and P&L on Tips
* Arrow Cash and Fund Flow & Ratio Analysis
* Bank Reconciliation & Interest Calculation
* Bill Wise Suppliers Outstanding & Bank Summary
* VAT Returns, Sales Tax Registers & Summaries
* Columnar Register/Ledger Printing
* Multi Ledger/Voucher/Dr/Cr Note printing
* Merge Trial Balance, Balance Sheet and P&L for Pharmacy Chain Stores
* Cheque & Voucher Printing
* IT-ST Auditor Reports
Close
MIS Reports
* Gross Profit reports on Day/Month/Item/Company/Bill & Supplier wise with zooming up to Bill.
* ABC Analysis, Fast & Slow Moving Items.
* Purchase, Sales & Stock Analysis.
* Suppliers wise Stocks, Dumping, and expiry & Valuation.
* Panel/Doctor/Patient/Supplier Wise Sales Reports.
* Bill not Printed/No. of Prints/Modification Track.
* Operator wise Log Book, Cash Collection & Sales Reports.
* Supplier Wise Companies List & Best Supplier Planning.
* Adjust Margins of Bills for personal sales.
* Pending Challans & Single Bill for Counter Sales.
* Product/Suppliers & Patient Queries.
* Doctor's Commission & Company wise Margins.
Close
Other Features
* Single User, Two User & Multi User
* 100% Data Security & Accuracy
* Tried & tested (100 % error free)
* Multi Currency, Unit, Godwon & Financial Years Facility
* Calculator & Cash Return Adviser
* Month Calendar with Appointment Diary & Note Pad
* Suppliers, Customers & Personal Directory
* Telephone Book, Envelope & Labels Printing
* Hot Keys for switch over from one report to another
* software / Operator / Company Passwords & Boundations
* Data Security with Self Backup & Carbon Copy system
* Sales/Purchase, Bank, Ledger & Data Freezing on any Date
* Auto recovery of Bill for unsaved bill due to Power Off
* Attached with Hospital software & work on their guidelines
* Any Report Printing from anywhere
Close
Stock Report
* Narcotics / Category / Salt / Rack / Company / Supplier wise stock Reports in 1/2/3/4/5/6 Column
* Near Expiry/Hold/Dump/Negative/New Rate stock with supplier details
* Item/Batch Register for Salable Items
* Expired/Breakage Stocks & Registers
* Supplier wise Expired Items List
* Narcotics/Schedule-X Items List & Registers
* Bank Stock Statements & Summaries
* Stock Valuation on Company/Category/Supplier/Narcotics
* Near Expiry statements with Suppliers details
* Near Expiry Stock can be auto transfer to Expired Stock
* Near Expiry Stock can be auto transfer to Supplier
* Supplier wise various stock reports
* Merge Stock Reports for Chemist Chain Stores
---